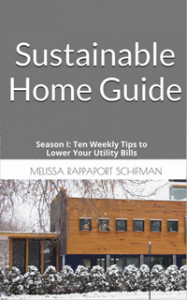 eBook on Amazon.com!
You don't have to have a kindle to read it — you can read it through the free Kindle app that is compatible with most electronic devices.   And it's only $4.95!
Wondering what's in it?  The first of four volumes, it starts you down the path of having a more sustainable home.
The Preface tells you all about how the massive topic of sustainability for the home is broken into four quarters, or seasons.  The Introduction provides everything you need to know about why energy efficiency matters.  Then, learn the top 10 ways you can save money on energy and water bills at home (which will more than pay for this eBook!).  The final chapter provides resources for how to learn more.
Stay tuned for Sustainable Home Guide Season Two (Spring):  10 Weekly Tips to Reduce Your Exposure to Toxins and Chemicals — which will be released early 2015.