You know that new paint smell? Does it every give you a headache or irritate your sinuses? That's because most paints contain VOCs – volatile organic compounds. VOCs are a class of carbon-based compounds that readily become volatile under ordinary atmospheric conditions. In other words, they are gases that are emitted from certain solids or liquids, and they can have adverse health effects.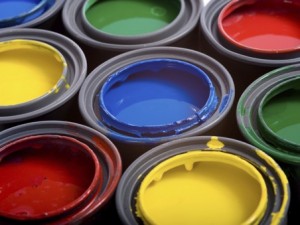 According to the Environmental Protection Agency (EPA), VOCs are emitted by a wide array of products numbering in the thousands. Examples include:
paints and lacquers
paint strippers
cleaning supplies
pesticides
building materials and furnishings
office equipment such as copiers and printers
correction fluids and carbonless copy paper
graphics and craft materials including glues and adhesives, permanent markers, and photographic solutions.
What's the health risk?

There are many known health risks to VOC exposure: Eye, nose, and throat irritation; headaches, loss of coordination, nausea, memory impairment; damage to liver, kidney, and central nervous system; allergic skin reaction; fatigue and dizziness.